Annihilation (Jeff VanderMeer)
22 February 2017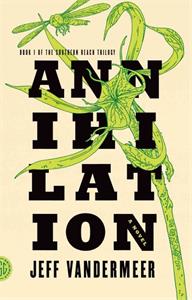 Welcome to Area X. An Edenic wilderness, an environmental disaster zone, a mystery for thirty years.

For thirty years, Area X, monitored by the secret agency known as the Southern Reach, has remained mysterious and remote behind its intangible border– an environmental disaster zone, though to all appearances an abundant wilderness. Eleven expeditions have been sent in to investigate; even for those that have made it out alive, there have been terrible consequences.

'Annihilation' is the story of the twelfth expedition and is told by its nameless biologist. Introverted but highly intelligent, the biologist brings her own secrets with her. She is accompanied by a psychologist, an anthropologist and a surveyor, their stated mission: to chart the land, take samples and expand the Southern Reach's understanding of Area X.

But they soon find out that they are being manipulated by forces both strange and all too familiar. An unmapped tunnel is not as it first appears. An inexplicable moaning calls in the distance at dusk. And while each member of the expedition has surrendered to the authority of the Southern Reach, the power of Area X is far more difficult to resist.
Average Rating:
Sean Aaron (4 March 2017 15:58)
Fantastic read, wonderful characterisation and intriguing story with Lovecraftian overtones. Already read the second and plan to read the third.