Upcoming Discussions
The books listed below are scheduled to be discussed at the group. We're always keen to see new faces so if any of the titles take your fancy please feel free to come along.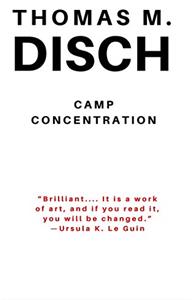 Camp Concentration (Thomas M. Disch)
27 September 2023 19:00
iCafe (72 Ingram Street, Glasgow, G1 1EX)
Louis Sacchetti is imprisoned for refusing to enlist in the war against Third World guerillas. In the underground Camp Archimedes, a military prison, he and other inmates are used in a perverse scientific experiment, and infected with a syphilis-like spirochete that raises intelligence to incredible heights while causing decay and death. Sacchetti himself tells his tale: "A difficult feat to bring off," as David Pringle has written, "but the degree to which Disch succeeds is nevertheless astonishing."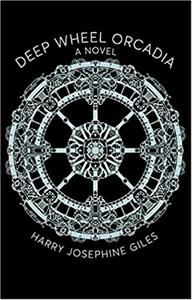 Deep Wheel Orcadia (Harry Josephine Giles)
25 October 2023 19:00
iCafe (72 Ingram Street, Glasgow, G1 1EX)
Astrid is returning home from art school on Mars, looking for inspiration. Darling is fleeing a life that never fit, searching for somewhere to hide. They meet on Deep Wheel Orcadia, a distant space station struggling for survival as the pace of change threatens to leave the community behind.

Deep Wheel Orcadia is a magical first: a science-fiction verse-novel written in the Orkney dialect. This unique adventure in minority language poetry comes with a parallel translation into playful and vivid English, so the reader will miss no nuance of the original. The rich and varied cast weaves a compelling, lyric and effortlessly readable story around place and belonging, work and economy, generation and gender politics, love and desire – all with the lightness of touch, fluency and musicality one might expect of one the most talented poets to have emerged from Scotland in recent years. Hailing from Orkney, Harry Josephine Giles is widely known as a fine poet and spellbindingly original performer of their own work; Deep Wheel Orcadia now strikes out into audacious new space.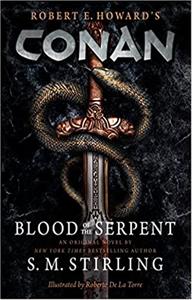 Conan - Blood of the Serpent (S. M. Stirling)
29 November 2023 19:00
iCafe (72 Ingram Street, Glasgow, G1 1EX)
As sword for hire for a mercenary troop, Conan finds himself in Sukhmet, a filthy backwater town south of the River Styx considered "the arse-end of Stygia." Serving in the company known as Zarallo's Free Companions, he fights alongside soldiers of fortune from Zingara, Koth, Shem, and other lands?a hard-handed band of killers loyal to anyone who pays them well.

In a Sukhmet tavern he encounters one soldier in particular?Valeria of the Red Brotherhood, a veteran of freebooters with whom Conan also sailed, launching raids out of the Barachan Isles on the Western Sea. Valeria's reputation is that of a deadly swordswoman, a notoriety she quickly proves to be accurate. When she runs afoul of an exiled Stygian noble, however, things take a deadly turn, embroiling them both in the schemes of a priest of the serpent god Set.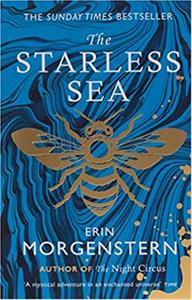 The Starless Sea (Erin Morgenstern)
31 January 2024 19:00
iCafe (72 Ingram Street, Glasgow, G1 1EX)
When Zachary Rawlins stumbles across a mysterious book containing details from his own life among its pages, it leads him on a quest unlike any other.

Following the clues inside, he is guided to a masquerade ball, a dangerous secret club, and finally to an ancient library hidden far beneath the surface of the earth. What Zachary finds in this curious place is more than just a buried home for books and their guardians - it is a place of lost cities and seas, lovers who pass notes across time, and of stories whispered by the dead.

But when the library is threatened, Zachary must race through its twisting tunnels and sweetly soaked shores, searching for the end of his story.