Idlewild (Nick Sagan)
31 May 2006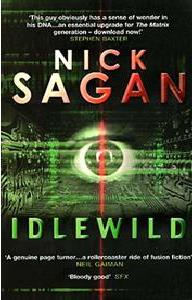 Average Rating:
Marc Reynolds (7 July 2006 15:57)
Read this ages ago, loved it then and again on a second reading. The protagonist starts out knowing as much as you and his situation is revealed to the reader, as it is revealed to him. A trick I haven't seen used so well since Roger Zelazny' s Nine Princes in Amber.
Avril Stringer (3 July 2006 18:12)
Thorougly enjoyable. I was not put off by the confusion at the beginning because the story was about someone who had just lost his memory - he was just as confused and I think Nick Sagan was trying to convey how the character would have felt. It kept you guessing all the way. I went out and bought the sequel when I got to the end.
Graham MacDonald (1 June 2006 10:47)
Excellent, extremely readable, slice of cyberpunk crossed with Wyndham. The slightly confusing start only helps to heighten our (and the main protagonist's) sense that something is not quite right. From there on it's impossible to put down. I don't think I've read a book this quickly since the last good Pratchett (circa 1995) and I'm already onto the sequel.